Create Workspace
Robomotion is a web-based Robotic Process Automation (RPA) platform. All the tools required to develop your automation and manage your robots are browser applications.
The fastest way to start using Robomotion is to use our hosted version at https://www.robomotion.io
info
You can also use an on-prem/private cloud version. Robomotion runs on a Kubernetes cluster. If you are interested to install Robomotion onto your cluster contact us.
You can start creating your workspace by following this link.
Robomotion workspace is where the users and robots of your organization connect. By creating an account you are also creating a workspace and you will be the owner of this workspace.
Enter your name and work email address to start creating your workspace.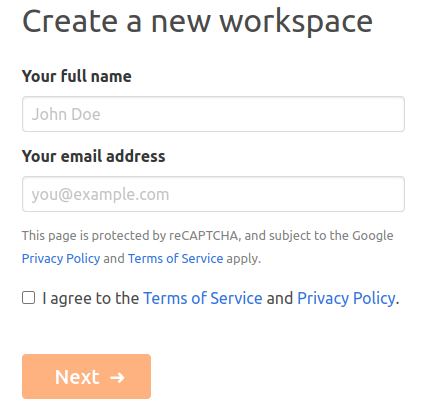 A 6-digit code for verification will be sent to your email address. Check your email and enter the code.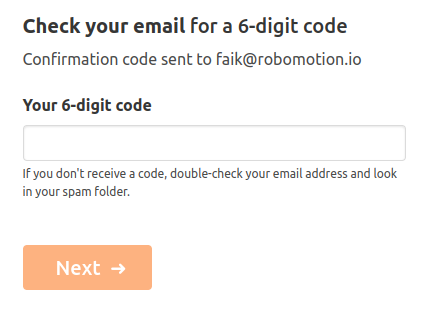 Set a strong password of at least 8 characters long for your account.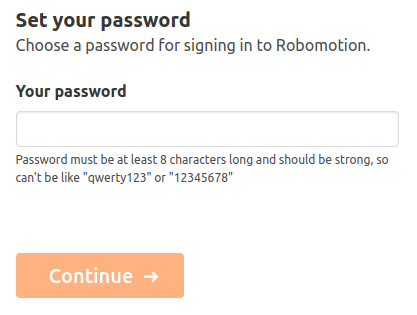 info
This password will also be used to open your vaults that keep your credentials for your flows. Also, it is combined with a unique generated key (that only you have) for every vault you create for stronger security.
Every Robomotion workspace has one free development robot, this will be the name of the robot in your workspace. You will select your robot while trying to run a custom flow or while scheduling a flow.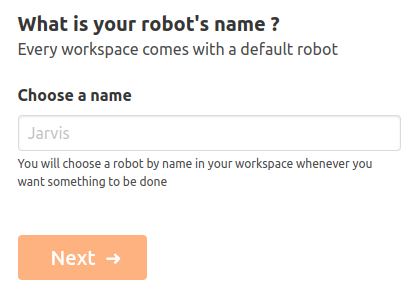 Give your workspace a name. This can be your company's, organization's, or your team's name that will use this workspace.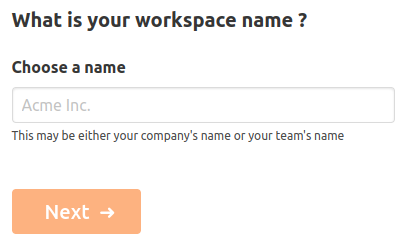 And lastly please select a subdomain for your workspace. You are going to use this link to open your workspace from your browser.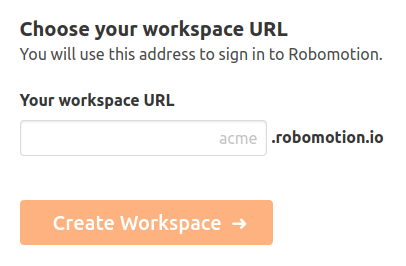 🎉 Congratulations! You have just completed creating your workspace and now will be forwarded to the Flow Designer welcome page.