For Each Loop
Learn how to use For Each loop
When you need to iterate over an array, you can use the "For Each" loop under the Programming section.
For Each node has one input port and two output ports. The input port takes an array and starts iterating through the items. The upper output port injects each item until all the items are processed. After iterating all the items the flow continues from the below outport port.
The array to be iterated should be given to For Each node's properties as below. The current item property will contain the iterated value.
When you finished processing the item through the top output port's branch, you have to connect a wire back to For Each node's input for the loop to work.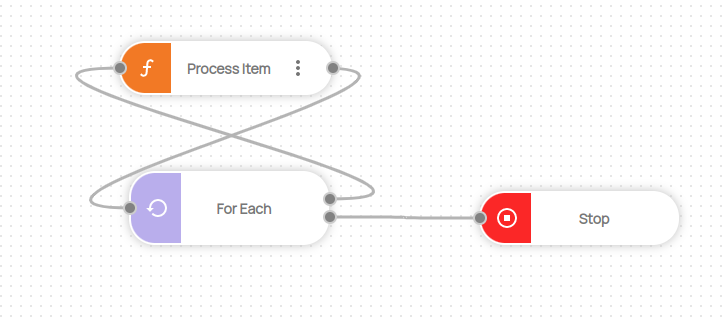 Or you can use a Go to Node and a Label to return to the For Each node's input as below:

You can copy-paste the following code into your flow board to try out the above example. Just copy the below code and click an empty region of your board then press Ctrl+v.
{

"nodes"

:

[

{

"id"

:

"0533a62b-2dd4-42b5-a095-84bdeb58da3b"

,

"type"

:

"simple"

,

"selected"

:

true

,

"x"

:

480

,

"y"

:

390

,

"extras"

:

{

"inPayload"

:

{

"scope"

:

"JS"

,

"name"

:

"Date.now()"

}

,

"outPayload"

:

{

"scope"

:

"Message"

,

"name"

:

"payload"

}

,

"optRepeat"

:

1

,

"optOnce"

:

true

,

"optOnceDelay"

:

0.1

}

,

"ports"

:

[

{

"id"

:

"5c3d76d2-1de3-4a4d-92fc-0344c87f07f8"

,

"type"

:

"default"

,

"selected"

:

false

,

"name"

:

"out_5c3d76d2-1de3-4a4d-92fc-0344c87f07f8"

,

"parentNode"

:

"0533a62b-2dd4-42b5-a095-84bdeb58da3b"

,

"links"

:

[

"9bf51ff1-6aff-41a8-a024-cb201d3dbccc"

]

,

"in"

:

false

,

"label"

:

"simple"

,

"position"

:

"out"

}

]

,

"model"

:

{

"id"

:

"0533a62b-2dd4-42b5-a095-84bdeb58da3b"

,

"name"

:

"Start"

,

"icon"

:

"M10,9A1,1 0 0,1 11,8A1,1 0 0,1 12,9V13.47L13.21,13.6L18.15,15.79C18.68,16.03 19,16.56 19,17.14V21.5C18.97,22.32 18.32,22.97 17.5,23H11C10.62,23 10.26,22.85 10,22.57L5.1,18.37L5.84,17.6C6.03,17.39 6.3,17.28 6.58,17.28H6.8L10,19V9M11,5A4,4 0 0,1 15,9C15,10.5 14.2,11.77 13,12.46V11.24C13.61,10.69 14,9.89 14,9A3,3 0 0,0 11,6A3,3 0 0,0 8,9C8,9.89 8.39,10.69 9,11.24V12.46C7.8,11.77 7,10.5 7,9A4,4 0 0,1 11,5Z"

,

"color"

:

"#FDD835"

,

"namespace"

:

"Core.Trigger.Inject"

,

"version"

:

"0.0.0"

,

"abc"

:

[

{

"name"

:

"Start"

,

"color"

:

"#FDD835"

,

"version"

:

"0.0.0"

}

,

{

"inPayload"

:

{

"scope"

:

"JS"

,

"name"

:

"Date.now()"

}

}

,

{

"outPayload"

:

{

"scope"

:

"Message"

,

"name"

:

"payload"

}

}

,

{

"optRepeat"

:

1

,

"optOnce"

:

true

,

"optOnceDelay"

:

0.1

}

]

,

"xyz"

:

[

{

"schema"

:

{

"title"

:

"Input"

,

"type"

:

"object"

,

"properties"

:

{

"inPayload"

:

{

"type"

:

"object"

,

"title"

:

"Payload"

,

"variableType"

:

"String"

,

"customScope"

:

true

,

"jsScope"

:

true

,

"argsScope"

:

true

,

"properties"

:

{

"scope"

:

{

"type"

:

"string"

}

,

"name"

:

{

"type"

:

"string"

}

}

}

}

}

,

"uiSchema"

:

{

"inPayload"

:

{

"ui:field"

:

"variable"

}

}

,

"formData"

:

{

"inPayload"

:

{

"scope"

:

"JS"

,

"name"

:

"Date.now()"

}

}

}

,

{

"schema"

:

{

"title"

:

"Output"

,

"type"

:

"object"

,

"properties"

:

{

"outPayload"

:

{

"type"

:

"object"

,

"title"

:

"Payload"

,

"variableType"

:

"String"

,

"messageOnly"

:

true

,

"properties"

:

{

"scope"

:

{

"type"

:

"string"

}

,

"name"

:

{

"type"

:

"string"

}

}

}

}

}

,

"uiSchema"

:

{

"outPayload"

:

{

"ui:field"

:

"variable"

}

}

,

"formData"

:

{

"outPayload"

:

{

"scope"

:

"Message"

,

"name"

:

"payload"

}

}

}

,

{

"schema"

:

{

"title"

:

"Options"

,

"type"

:

"object"

,

"properties"

:

{

"optRepeat"

:

{

"title"

:

"Repeat Interval (sec)"

,

"type"

:

"number"

}

,

"optOnce"

:

{

"title"

:

"Once"

,

"type"

:

"boolean"

}

,

"optOnceDelay"

:

{

"title"

:

"Once Delay (sec)"

,

"type"

:

"number"

}

}

}

,

"uiSchema"

:

{

"ui:order"

:

[

"optRepeat"

,

"optOnceDelay"

,

"optOnce"

]

,

"optRepeat"

:

{

"ui:field"

:

"input"

}

,

"optOnce"

:

{

"ui:field"

:

"input"

}

,

"optOnceDelay"

:

{

"ui:field"

:

"input"

}

}

,

"formData"

:

{

"optRepeat"

:

1

,

"optOnce"

:

true

,

"optOnceDelay"

:

0.1

}

}

]

,

"outputs"

:

1

,

"inputs"

:

0

}

}

,

{

"id"

:

"298aaf7e-4dc5-49f3-a9aa-a7c049f60093"

,

"type"

:

"simple"

,

"selected"

:

true

,

"x"

:

750

,

"y"

:

390

,

"extras"

:

{

"outputs"

:

1

,

"func"

:

"msg.fruits=[\"Apple\", \"Orange\", \"Banana\"];\nreturn msg;\n"

,

"optTimeout"

:

30

,

"variables"

:

[

]

}

,

"ports"

:

[

{

"id"

:

"b5806375-74ad-41fc-b682-8c33bceab9d1"

,

"type"

:

"default"

,

"selected"

:

false

,

"name"

:

"out_b5806375-74ad-41fc-b682-8c33bceab9d1"

,

"parentNode"

:

"298aaf7e-4dc5-49f3-a9aa-a7c049f60093"

,

"links"

:

[

"4d1d03c6-6a44-4b60-97a6-e90d3ac02973"

]

,

"in"

:

false

,

"label"

:

"simple"

,

"position"

:

"out"

}

,

{

"id"

:

"7dc5839a-3b96-48c8-add3-8f26938d55a4"

,

"type"

:

"default"

,

"selected"

:

false

,

"name"

:

"in"

,

"parentNode"

:

"298aaf7e-4dc5-49f3-a9aa-a7c049f60093"

,

"links"

:

[

"9bf51ff1-6aff-41a8-a024-cb201d3dbccc"

]

,

"in"

:

true

,

"label"

:

"simple"

,

"position"

:

"in"

}

]

,

"model"

:

{

"id"

:

"298aaf7e-4dc5-49f3-a9aa-a7c049f60093"

,

"name"

:

"Prepare Array"

,

"icon"

:

"M15.6,5.29C14.5,5.19 13.53,6 13.43,7.11L13.18,10H16V12H13L12.56,17.07C12.37,19.27 10.43,20.9 8.23,20.7C6.92,20.59 5.82,19.86 5.17,18.83L6.67,17.33C6.91,18.07 7.57,18.64 8.4,18.71C9.5,18.81 10.47,18 10.57,16.89L11,12H8V10H11.17L11.44,6.93C11.63,4.73 13.57,3.1 15.77,3.3C17.08,3.41 18.18,4.14 18.83,5.17L17.33,6.67C17.09,5.93 16.43,5.36 15.6,5.29Z"

,

"color"

:

"#F27925"

,

"editor"

:

"javascript"

,

"namespace"

:

"Core.Programming.Function"

,

"version"

:

"0.0.0"

,

"abc"

:

[

{

"name"

:

"Prepare Array"

,

"version"

:

"0.0.0"

,

"color"

:

"#F27925"

,

"delayBefore"

:

0

,

"delayAfter"

:

0

,

"continueOnError"

:

false

}

,

{

"outputs"

:

1

,

"func"

:

"msg.fruits=[\"Apple\", \"Orange\", \"Banana\"];\nreturn msg;\n"

,

"optTimeout"

:

30

}

,

{

"variables"

:

[

]

}

]

,

"xyz"

:

[

{

"schema"

:

{

"title"

:

"Options"

,

"type"

:

"object"

,

"properties"

:

{

"func"

:

{

"title"

:

"Function"

,

"type"

:

"string"

}

,

"outputs"

:

{

"title"

:

"Outputs"

,

"type"

:

"number"

,

"minimum"

:

1

,

"maximum"

:

32

}

,

"optTimeout"

:

{

"title"

:

"Script Timeout"

,

"type"

:

"number"

}

}

}

,

"uiSchema"

:

{

"outputs"

:

{

"ui:field"

:

"input"

}

,

"func"

:

{

"ui:widget"

:

"hidden"

,

"ui:options"

:

{

"rows"

:

6

}

}

,

"optTimeout"

:

{

"ui:field"

:

"input"

}

}

,

"formData"

:

{

"outputs"

:

1

,

"func"

:

"msg.fruits=[\"Apple\", \"Orange\", \"Banana\"];\nreturn msg;\n"

,

"optTimeout"

:

30

}

}

,

{

"schema"

:

{

"title"

:

"Local Variables"

,

"type"

:

"object"

,

"properties"

:

{

"variables"

:

{

"type"

:

"array"

,

"items"

:

{

"type"

:

"object"

,

"properties"

:

{

"name"

:

{

"type"

:

"string"

}

,

"variableType"

:

{

"type"

:

"string"

}

}

}

}

}

}

,

"uiSchema"

:

{

"variables"

:

{

"ui:field"

:

"localVariable"

}

}

,

"formData"

:

{

"variables"

:

[

]

}

}

]

,

"outputs"

:

1

,

"inputs"

:

1

}

}

,

{

"id"

:

"60004d2b-1aaa-4d31-bf7d-7a25174b1335"

,

"type"

:

"simple"

,

"selected"

:

true

,

"x"

:

1060

,

"y"

:

380

,

"extras"

:

{

"optInput"

:

{

"scope"

:

"Message"

,

"name"

:

"fruits"

}

,

"optOutput"

:

{

"scope"

:

"Message"

,

"name"

:

"fruit"

}

}

,

"ports"

:

[

{

"id"

:

"9852f11e-5025-4768-bd21-b8639453eef9"

,

"type"

:

"default"

,

"selected"

:

false

,

"name"

:

"out_9852f11e-5025-4768-bd21-b8639453eef9"

,

"parentNode"

:

"60004d2b-1aaa-4d31-bf7d-7a25174b1335"

,

"links"

:

[

"14b402d0-414a-4bfd-b4b8-c8c87de7f1a6"

,

"d56adbe5-1f8b-4238-9277-d6b17a6802c1"

]

,

"in"

:

false

,

"label"

:

"simple"

,

"position"

:

"out"

}

,

{

"id"

:

"98c93474-7ebc-4637-bca8-a1685c3efa9a"

,

"type"

:

"default"

,

"selected"

:

false

,

"name"

:

"out_98c93474-7ebc-4637-bca8-a1685c3efa9a"

,

"parentNode"

:

"60004d2b-1aaa-4d31-bf7d-7a25174b1335"

,

"links"

:

[

"65857ea0-aba8-41ec-873c-d372999d9bc8"

]

,

"in"

:

false

,

"label"

:

"simple"

,

"position"

:

"out"

}

,

{

"id"

:

"aedd6019-0c81-4984-8821-dcaba98fb2b1"

,

"type"

:

"default"

,

"selected"

:

false

,

"name"

:

"in"

,

"parentNode"

:

"60004d2b-1aaa-4d31-bf7d-7a25174b1335"

,

"links"

:

[

"4d1d03c6-6a44-4b60-97a6-e90d3ac02973"

,

"5bb5918d-862c-41ee-90e2-ca773ca10488"

]

,

"in"

:

true

,

"label"

:

"simple"

,

"position"

:

"in"

}

]

,

"model"

:

{

"id"

:

"60004d2b-1aaa-4d31-bf7d-7a25174b1335"

,

"name"

:

"For Each Fruit"

,

"icon"

:

"M13,3A9,9 0 0,0 4,12H1L4.89,15.89L4.96,16.03L9,12H6A7,7 0 0,1 13,5A7,7 0 0,1 20,12A7,7 0 0,1 13,19C11.07,19 9.32,18.21 8.06,16.94L6.64,18.36C8.27,20 10.5,21 13,21A9,9 0 0,0 22,12A9,9 0 0,0 13,3Z"

,

"color"

:

"#b9aeec"

,

"namespace"

:

"Core.Programming.ForEach"

,

"version"

:

"0.0.0"

,

"abc"

:

[

{

"name"

:

"For Each Fruit"

,

"color"

:

"#b9aeec"

,

"delayBefore"

:

0

,

"delayAfter"

:

0

,

"continueOnError"

:

false

,

"version"

:

"0.0.0"

}

,

{

"optInput"

:

{

"scope"

:

"Message"

,

"name"

:

"fruits"

}

,

"optOutput"

:

{

"scope"

:

"Message"

,

"name"

:

"fruit"

}

}

]

,

"xyz"

:

[

{

"schema"

:

{

"title"

:

"Options"

,

"type"

:

"object"

,

"properties"

:

{

"optInput"

:

{

"type"

:

"object"

,

"title"

:

"Loop through object"

,

"variableType"

:

"Array"

,

"messageScope"

:

true

,

"properties"

:

{

"scope"

:

{

"type"

:

"string"

}

,

"name"

:

{

"type"

:

"string"

}

}

}

,

"optOutput"

:

{

"type"

:

"object"

,

"title"

:

"Current Item"

,

"variableType"

:

"string"

,

"messageScope"

:

true

,

"messageOnly"

:

true

,

"properties"

:

{

"scope"

:

{

"type"

:

"string"

}

,

"name"

:

{

"type"

:

"string"

}

}

}

}

}

,

"uiSchema"

:

{

"optInput"

:

{

"ui:field"

:

"variable"

}

,

"optOutput"

:

{

"ui:field"

:

"variable"

}

}

,

"formData"

:

{

"optInput"

:

{

"scope"

:

"Message"

,

"name"

:

"fruits"

}

,

"optOutput"

:

{

"scope"

:

"Message"

,

"name"

:

"fruit"

}

}

}

]

,

"outputs"

:

2

,

"inputs"

:

1

}

}

,

{

"id"

:

"c3fcef50-986b-4750-86c9-779415ecdcf6"

,

"type"

:

"simple"

,

"selected"

:

true

,

"x"

:

1360

,

"y"

:

380

,

"extras"

:

{

"optNodes"

:

{

"all"

:

false

,

"ids"

:

[

"05999ba5-92bb-4af1-af28-cdbe38f93636"

]

}

}

,

"ports"

:

[

{

"id"

:

"5e27c79c-0244-44e1-bf56-e75b17e0d8ce"

,

"type"

:

"default"

,

"selected"

:

false

,

"name"

:

"in"

,

"parentNode"

:

"c3fcef50-986b-4750-86c9-779415ecdcf6"

,

"links"

:

[

"d56adbe5-1f8b-4238-9277-d6b17a6802c1"

]

,

"in"

:

true

,

"label"

:

"simple"

,

"position"

:

"in"

}

]

,

"model"

:

{

"id"

:

"c3fcef50-986b-4750-86c9-779415ecdcf6"

,

"name"

:

"Go To Next Fruit"

,

"icon"

:

"M11,16H3V8H11V2L21,12L11,22V16M13,7V10H5V14H13V17L18,12L13,7Z"

,

"color"

:

"#444"

,

"namespace"

:

"Core.Flow.GoTo"

,

"version"

:

"0.0.0"

,

"abc"

:

[

{

"name"

:

"Go To Next Fruit"

,

"version"

:

"0.0.0"

,

"color"

:

"#444"

,

"delayBefore"

:

0

,

"delayAfter"

:

0

,

"continueOnError"

:

false

}

,

{

"optNodes"

:

{

"all"

:

false

,

"ids"

:

[

"05999ba5-92bb-4af1-af28-cdbe38f93636"

]

}

}

]

,

"xyz"

:

[

{

"schema"

:

{

"title"

:

"Options"

,

"type"

:

"object"

,

"inputs"

:

1

,

"outputs"

:

1

,

"properties"

:

{

"optNodes"

:

{

"type"

:

"object"

,

"title"

:

""

,

"properties"

:

{

"ids"

:

{

"title"

:

""

,

"type"

:

"array"

,

"items"

:

{

"type"

:

"string"

}

}

,

"all"

:

{

"title"

:

"All"

,

"type"

:

"boolean"

}

}

}

}

}

,

"uiSchema"

:

{

"optNodes"

:

{

"ui:field"

:

"catch"

}

,

"ui:order"

:

[

"optNodes"

]

}

,

"formData"

:

{

"optNodes"

:

{

"all"

:

false

,

"ids"

:

[

"05999ba5-92bb-4af1-af28-cdbe38f93636"

]

}

}

}

]

,

"outputs"

:

0

,

"inputs"

:

1

}

}

,

{

"id"

:

"05999ba5-92bb-4af1-af28-cdbe38f93636"

,

"type"

:

"simple"

,

"selected"

:

true

,

"x"

:

800

,

"y"

:

490

,

"extras"

:

{

}

,

"ports"

:

[

{

"id"

:

"c6f71d73-bc6b-48f5-86cc-dc6b3c26bbc0"

,

"type"

:

"default"

,

"selected"

:

false

,

"name"

:

"out_c6f71d73-bc6b-48f5-86cc-dc6b3c26bbc0"

,

"parentNode"

:

"05999ba5-92bb-4af1-af28-cdbe38f93636"

,

"links"

:

[

"5bb5918d-862c-41ee-90e2-ca773ca10488"

]

,

"in"

:

false

,

"label"

:

"simple"

,

"position"

:

"out"

}

]

,

"model"

:

{

"id"

:

"05999ba5-92bb-4af1-af28-cdbe38f93636"

,

"name"

:

"Next Fruit"

,

"icon"

:

"M11,16H3V8H11V2L21,12L11,22V16M13,7V10H5V14H13V17L18,12L13,7Z"

,

"color"

:

"#444"

,

"namespace"

:

"Core.Flow.Label"

,

"version"

:

"0.0.0"

,

"abc"

:

[

{

"name"

:

"Next Fruit"

,

"color"

:

"#444"

,

"delayBefore"

:

0

,

"delayAfter"

:

0

,

"continueOnError"

:

false

,

"version"

:

"0.0.0"

}

]

,

"xyz"

:

[

]

,

"outputs"

:

1

,

"inputs"

:

0

}

}

,

{

"id"

:

"2f785ec1-2696-439d-8369-67c30c71546d"

,

"type"

:

"simple"

,

"selected"

:

true

,

"x"

:

1360

,

"y"

:

300

,

"extras"

:

{

"optActive"

:

true

,

"optSysConsole"

:

false

,

"optDebugData"

:

{

"scope"

:

"Message"

,

"name"

:

"fruit"

}

}

,

"ports"

:

[

{

"id"

:

"9706fe39-d99c-47bf-828c-5f5a5c717431"

,

"type"

:

"default"

,

"selected"

:

false

,

"name"

:

"in"

,

"parentNode"

:

"2f785ec1-2696-439d-8369-67c30c71546d"

,

"links"

:

[

"14b402d0-414a-4bfd-b4b8-c8c87de7f1a6"

]

,

"in"

:

true

,

"label"

:

"simple"

,

"position"

:

"in"

}

]

,

"model"

:

{

"id"

:

"2f785ec1-2696-439d-8369-67c30c71546d"

,

"name"

:

"Debug"

,

"icon"

:

"M4,5H20V7H4V5M4,9H20V11H4V9M4,13H20V15H4V13M4,17H14V19H4V17Z"

,

"color"

:

"#E6EE9C"

,

"namespace"

:

"Core.Programming.Debug"

,

"version"

:

"0.0.0"

,

"abc"

:

[

{

"name"

:

"Debug"

,

"color"

:

"#E6EE9C"

,

"delayBefore"

:

0

,

"delayAfter"

:

0

,

"continueOnError"

:

false

,

"version"

:

"0.0.0"

}

,

{

"optActive"

:

true

,

"optSysConsole"

:

false

,

"optDebugData"

:

{

"scope"

:

"Message"

,

"name"

:

"fruit"

}

}

]

,

"xyz"

:

[

{

"schema"

:

{

"title"

:

"Options"

,

"type"

:

"object"

,

"properties"

:

{

"optActive"

:

{

"title"

:

"Active"

,

"type"

:

"boolean"

}

,

"optSysConsole"

:

{

"title"

:

"System Console"

,

"type"

:

"boolean"

}

,

"optDebugData"

:

{

"type"

:

"object"

,

"title"

:

"Debug Data"

,

"variableType"

:

"String"

,

"messageScope"

:

true

,

"properties"

:

{

"scope"

:

{

"type"

:

"string"

}

,

"name"

:

{

"type"

:

"string"

}

}

}

}

}

,

"uiSchema"

:

{

"optDebugData"

:

{

"ui:field"

:

"variable"

}

,

"ui:order"

:

[

"optDebugData"

,

"optActive"

,

"optSysConsole"

]

}

,

"formData"

:

{

"optActive"

:

true

,

"optSysConsole"

:

false

,

"optDebugData"

:

{

"scope"

:

"Message"

,

"name"

:

"fruit"

}

}

}

]

,

"outputs"

:

0

,

"inputs"

:

1

}

}

,

{

"id"

:

"31d85794-2c70-4e6b-a7ce-4dc31036a66b"

,

"type"

:

"simple"

,

"selected"

:

true

,

"x"

:

1360

,

"y"

:

490

,

"extras"

:

{

"outResult"

:

{

"scope"

:

"Message"

,

"name"

:

"error"

}

}

,

"ports"

:

[

{

"id"

:

"89b2b423-f9f1-434c-bde9-05d9bd925db8"

,

"type"

:

"default"

,

"selected"

:

false

,

"name"

:

"in"

,

"parentNode"

:

"31d85794-2c70-4e6b-a7ce-4dc31036a66b"

,

"links"

:

[

"65857ea0-aba8-41ec-873c-d372999d9bc8"

]

,

"in"

:

true

,

"label"

:

"simple"

,

"position"

:

"in"

}

]

,

"model"

:

{

"id"

:

"31d85794-2c70-4e6b-a7ce-4dc31036a66b"

,

"name"

:

"Stop"

,

"icon"

:

"M12,2A10,10 0 0,0 2,12A10,10 0 0,0 12,22A10,10 0 0,0 22,12A10,10 0 0,0 12,2M12,4C16.41,4 20,7.59 20,12C20,16.41 16.41,20 12,20C7.59,20 4,16.41 4,12C4,7.59 7.59,4 12,4M9,9V15H15V9"

,

"color"

:

"#fb2727"

,

"namespace"

:

"Core.Flow.Stop"

,

"version"

:

"0.0.0"

,

"abc"

:

[

{

}

,

{

"outResult"

:

{

"scope"

:

"Message"

,

"name"

:

"error"

}

}

]

,

"xyz"

:

[

{

"schema"

:

{

"title"

:

"Output"

,

"type"

:

"object"

,

"properties"

:

{

"outResult"

:

{

"type"

:

"object"

,

"title"

:

"Error"

,

"variableType"

:

"String"

,

"messageOnly"

:

true

,

"properties"

:

{

"scope"

:

{

"type"

:

"string"

}

,

"name"

:

{

"type"

:

"string"

}

}

}

}

}

,

"uiSchema"

:

{

"ui:order"

:

[

"outResult"

]

,

"outResult"

:

{

"ui:field"

:

"variable"

}

}

,

"formData"

:

{

"outResult"

:

{

"scope"

:

"Message"

,

"name"

:

"error"

}

}

}

]

,

"outputs"

:

0

,

"inputs"

:

1

}

}

]

,

"subFlows"

:

[

]

}